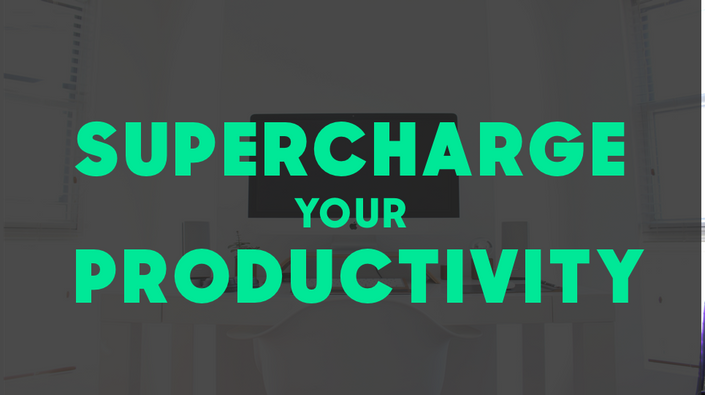 [C3] Supercharge your productivity with Notion
How to Design your Best Decade Ever
Will you own the next decade?
Or will the next decade own you?
10 years is a long time. But it can fly by. Remember the fears of a Y2K armageddon?
That was 20 years ago. Two decades.
The question that compounds
One simple question can change the course of a decade. This question can accelerate our careers, grow our earnings, and calm our anxious minds.

Yet we forget to ask the question.
Therefore we never know the answer.
What's important in your life, but not urgent?
The answer is hiding in plain sight.

Build your competitive moat by learning a new skill
Unleash your latent creativity by decluttering your mind
Create your own luck by anticipating the needs of a prospect
Jump of the corporate treadmill by launching that side project
These are highest leverage activities that let you scale yourself.
But we hit snooze on this critical part of our lives.

I'll get to it tomorrow.
Ummm. Next quarter.... Umm next year.
(Then a decade goes by.)
In a sea of noise, we've lost the signal
Look at this matrix. Where are you spending most of your time?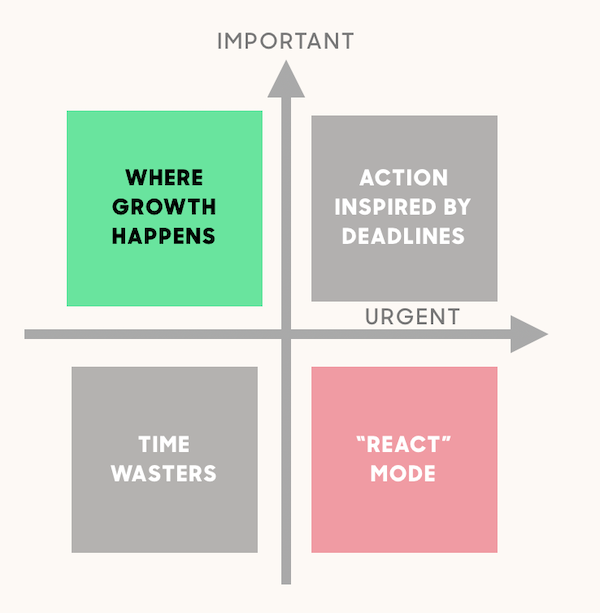 As a coach to many high-performers, they consistently tell me that they spend 10% in the green quadrant and the remainder in the red one.
And in a world of information overload, that makes sense. Everything feels urgent, but it's just a lot of noise. Unread emails. Pocket and Instapaper queues bursting at the seams. A queue of podcasts that would take 6 months to listen to... even at 1.5x speed.
If your future self in ten year was watching you work today, it would be shaking its head in disapproval saying, "Really? That's how you're spending your time?"
You feel robbed of your own agency. You're always in "react" mode. Other people are dictating your priorities.
Other people are dictating your life.
Technology is our supposed savior, right?
Apps, automations, hacks and iPads. Lots of iPads.

Technology promises to snap these priorities into place AND free up more time.
But it fails to deliver.
And instead, your "tech stack" looks more like digital cesspool:
Vacant Trello boards
Zombie to-do lists
Half-assed drafts in Google Docs
A graveyard of barely-used Moleskines.
Meet Notion, productivity's best-kept secret

You can now double-down on the most important parts of your life thanks to a new platform called Notion. Notion is part of the "no-code" software movement, enabling non-technical (but smart 😉) folks like you to proactively combine all of your workflows into one unified system.

You read that right. All of your:
Tasks
Calendars
Notes
Reading lists
Files
Boards
Spreadsheets
In one place.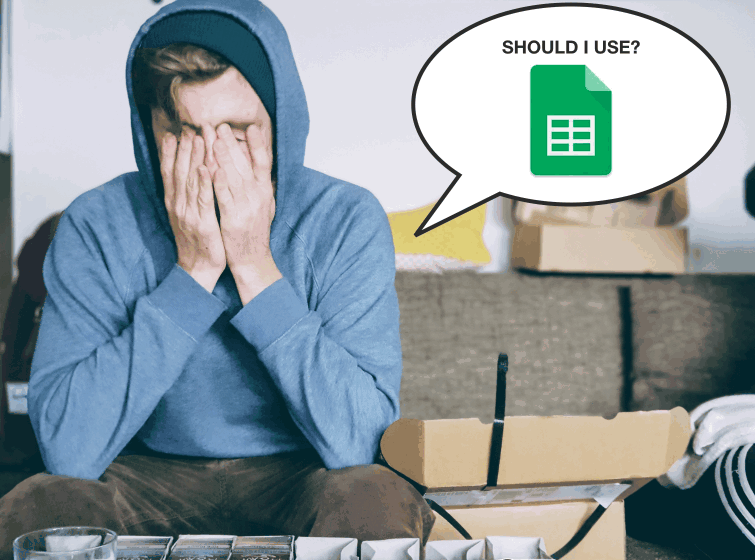 Notion fixes the fatal flaw of these apps:
When you build for everyone, you build for no one.

Jake optimizes his CRM for closing leads, while Jane optimizes for serendipity. Sam uses GTD for task management, Sophie uses a Bullet Journal.

Notion gives us the components to build the damn thing ourselves.
Steep learning curves
Remember the first time you went snowboarding? Your tailbone definitely does.
But once you crossed the steep part of the learning curve, damn does it feel good to carve down the mountain.
Your experience with Notion will be similar. "No-code" requires you to understand the principles behind Information Management Systems, Macros and Databases.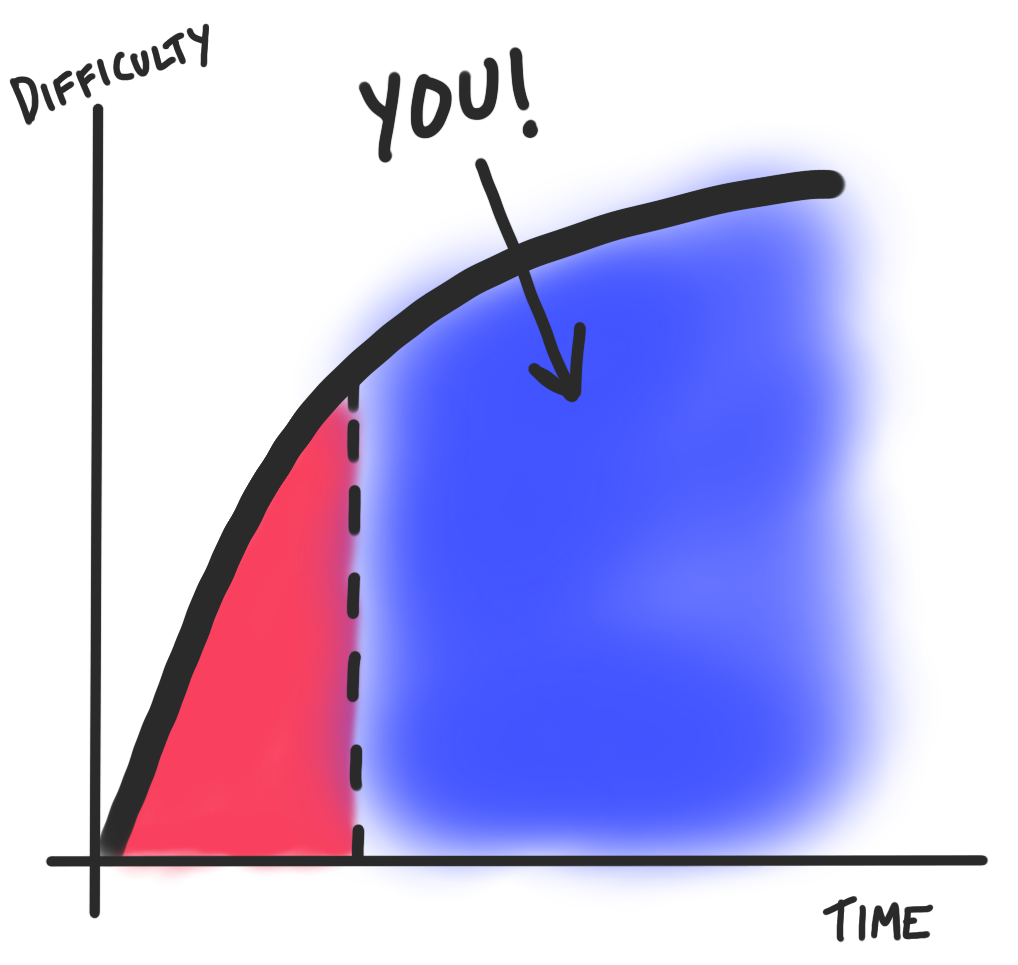 But don't let the jargon scare you, in 4 short weeks you'll cross the chasm, become a competent and confident "no-coder" and watch your life's work come into focus.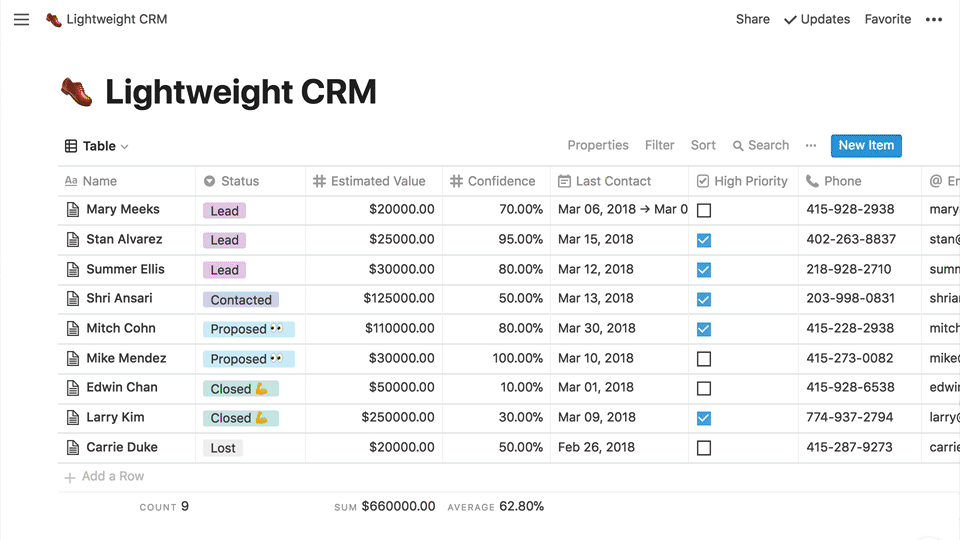 Give Notion a week and it will feel like you've got an unfair advantage.
You can onboard a new client in a few minutes
Update your customer pipeline without calling IT
Create a Team Wiki to capture your company's digital brain
And as you prepare to give that big talk, you'll watch in amazement as your outline, anecdotes, and speaker notes coalesce into a speech you knock out of the park.
Not to mention that your entire digital life - your reading notes, CRM, personal finances, vacation planning, habit tracking, kids' school information and even your bucket list will all live in a sleek and beautiful dashboard.
Notion saves me 5 hours a week
I've been using Notion for two years as a business owner, coach, community manager and our family's CFO (and Chief Administrative Officer). And as a fervent time tracker, I can show (with detailed accounting) that Notion saves me 5 hours each week: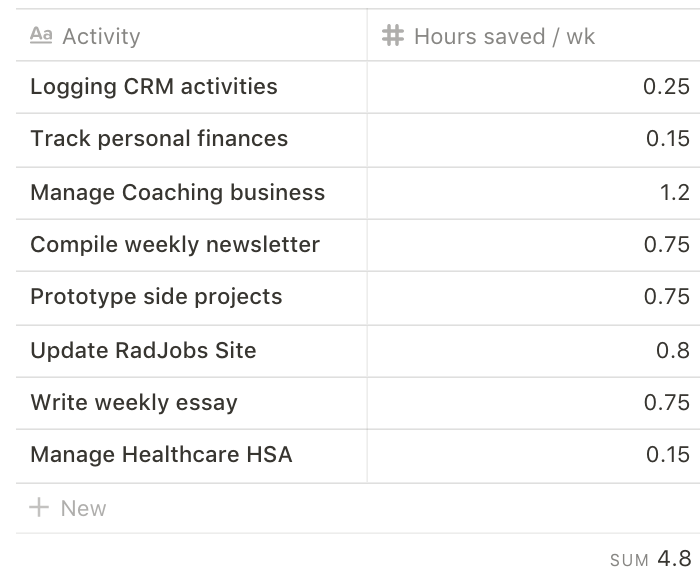 Notion has given me the infrastructure (and confidence) to build RadReads into a 6-figure lifestyle business, grow an audience 30,000 readers and relocate my family to sunny California to fulfill one of my lifelong dreams: surfing every day.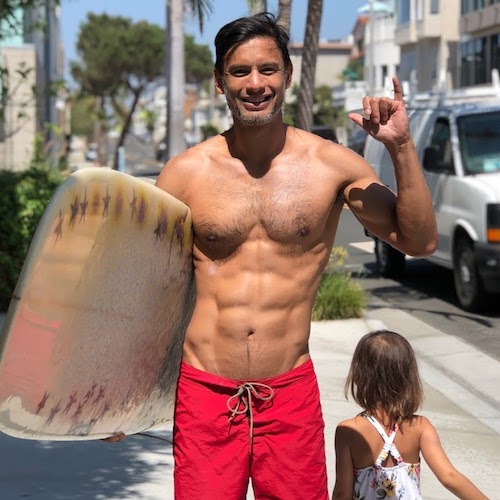 Let's ride the wave together
I've got a track record of spotting game-changing productivity tools. Omnifocus in 2008. Evernote in 2010. Airtable in 2015.
When I discovered the GTD app Omnifocus and I immediately started teaching my finance colleagues how it could help them ascend the corporate ladder. A decade later (many of them now run their own firms), they still thank me for introducing them to this "secret weapon."
When I first tried Notion, I was in awe of its potential — but recognized that you still needed a sprinkle of technical chops to really capture the personal ROI. I scoured Reddit, Twitter, private Slack groups to understand how people were using it — and where they were getting stuck.
My obsession with your productivity has been featured in publications including Bloomberg, The Wall Street Journal, CNN, Barron's, and Lifehacker.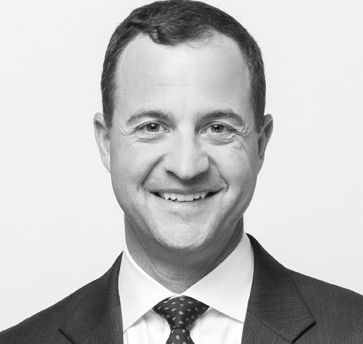 As a relative luddite, Khe's Notion course not only got me started on a powerful platform, but also changed the entire way I think about organizing my information. I'm faster with my task list, use a workflow for my busiest work, and even plan and print my babysitter's schedule with the click of a button. The functionality allowed me to shift important tasks off of Outlook and work with others on my team to manage my podcast workflow.
- Ted Seides, Host of Capital Allocators podcast.
Running a corporate venture group means a process-heavy approach to finding and researching opportunities. What used to be a mish-mosh of web tools is now a tight process that all team members can access through a series of dashboards. What really blew me away was the speed of which we were able to create these (with ZERO coding experience) thanks to Khe's library of tutorials.
- Alexis Horowitz-Burdick, Head of Lego Ventures

I was skeptical that yet another tool could get our team on the same page. For us, we need tech that ties together complex (and uniquely different) transactions both internally and with our advisory clients. Thanks to Khe's principles-based approach to Notion, our entire team can now fire up customized databases and interactive spreadsheets in no time. Our Notion modules have boosted our productivity, and by extension our profits.
- Babak Ziai, Founder of BrandView Advisors
Frequently Asked Questions
When does the course start and finish?
The course starts on 1/28 and takes place on Tuesdays at 8 pm EDT on 2/4, 11, and 25 (skipping 2/18). Replays will be available within 12 hours of each class. You'll have lifetime access to the replays, mini-modules, and templates.
Why can't I learn all this for free on the Internet?
You absolutely can, and that's how I did it. The course taps into 500+ hours of research into Notion (not to mention studying productivity strategies since 2001) and then synthesizes it into a handful of modules. It's a high-leverage (and time-efficient) way of achieving Notion mastery.
What if I am unhappy with the course?
I've spent years building up trust in the RadReads community and I'm not about to jeopardize this relationship. If you are unsatisfied with your purchase, contact us in the first 30 days and we will give you a full refund - NO QUESTIONS ASKED.
How can a single app solve so many unique problems?
Notion is part of a movement in software development called "No-Code." These apps are backed with functionality that lets you effectively build apps on top of them. Using a car analogy, No-Code apps don't just give you the car, they give you the components (chassis, tires, transmission) to build the car itself. And this course will give you mastery of every component so that you can customize Notion to your own use cases.
I'm not technical at all. Will the course be overwhelming?
That's what's magical about Notion. Remember the first time you used an iPhone? It's literally that smooth and easy. The most technical part of the course will be akin to creating formulas in a spreadsheet (and we'll even support those questions in our office hours).
How long do I have access to the course?
How does forever sound? After enrolling, you have unlimited access to this course for as long as you like - across any and all devices you own.
My company uses Google Docs (or Microsoft Office). Is the course still worth it?
Absolutely. The dashboards are built to support both personal life and work life. As an individual contributor, you'll find Notion will quickly supplant any tools you use to draft, write, and organize your work life. Yes, ideally your team will eventually use Notion - but getting your projects out of Notion takes seconds.
Is Notion paying you for this?
Nope. It's pure early-adaptor evangelism and me eating my own cooking. I am the "Notion Pro" for LA, which means they buy me pizza and send swag in exchange for hosting events.
I can't attend all of the live sessions. Is it still worth it?
While we've found that attending live always leads to the best results due to participation and student camaraderie, we've designed the course in a format made for someone who's always on the run. All lectures, Q&As, tutorials and templates are available on-demand and the course will adapt to your busy schedule.
Are you ready to get supercharged on January 28th?
Notion will transform your workflow while letting you double down on what's "Important, but not Urgent."
But this ain't gonna be easy. That's why I'm launching a 4-week online course to teach you how to master Notion.
Imagine combining the HBS case study, a coding bootcamp, and a coaching engagement.
The course's format is tailored to the busy professional and is designed to maximize your return on time. It includes:
4 weeks of live 1 hour instruction
10 video mini-modules
20+ templates
Weekly private office hours via Slack
The best way to learn something is to build it. Specifically something you'll use every day. The weekly lectures will be develop your "foundation" and all the add-ons will help you customize Notion to your needs.
Upon graduation, you'll have a unified system that will replace many of your productivity and note-taking apps.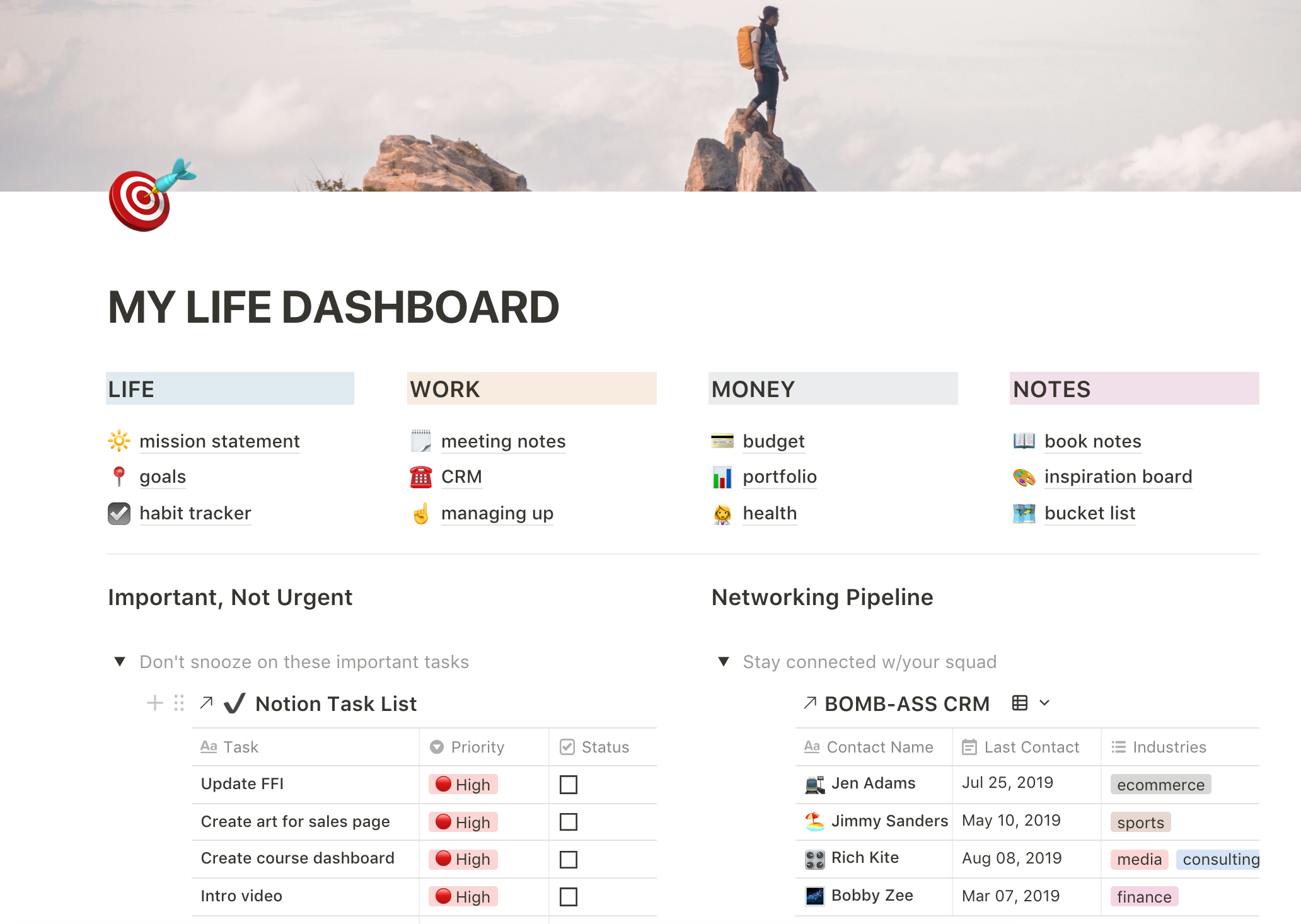 Course schedule
The course will meet every Tuesday at 8pm EST beginning on 1/28 and run for four weeks via Zoom video.
January 28th: Accumulating Advantages
February 4th: Spreadsheets on Steroids
February 11th: Double-Down on Databases
February 25th: A System that Sticks
Note: We're skipping 2/18 because of President's Day
While I highly recommend you attend the live sessions, the replays will be available immediately after class. You'll also have access to a full course dashboard with all the mini-modules and templates.
Your Instructor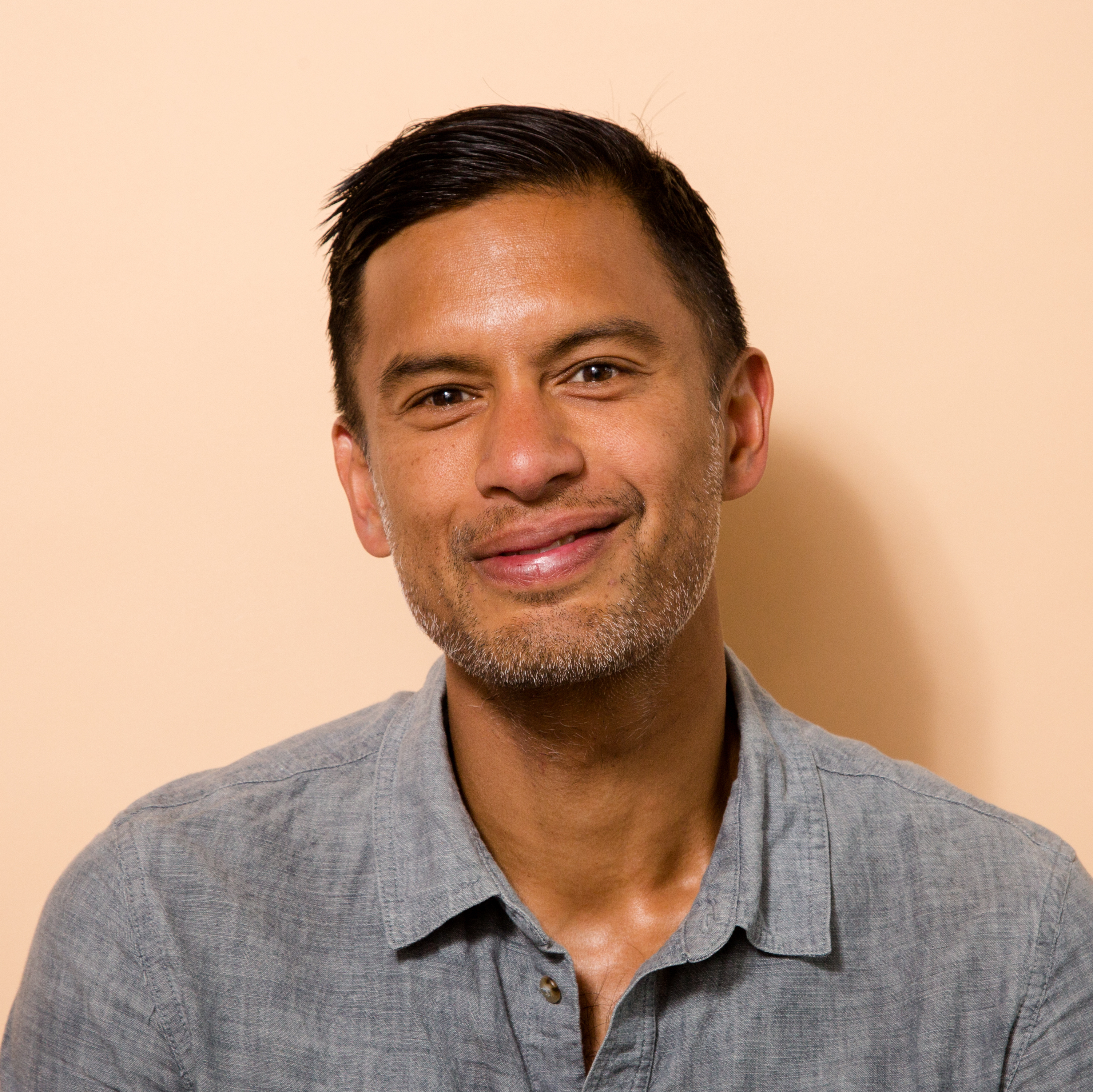 Khe Hy is a founding editor at Quartz at Work and the founder of RadReads. RadReads is a community of 20,000 professionals seeking to reexamine their relationship to money, ambition, and ultimately themselves. Khe hosts two podcasts (Rad Awakenings and FWD: Thinking) and has been called Oprah for Millennials (CNN) and the Wall Street Guru (Bloomberg).He spent the first fifteen years of his career in the financial services industry researching hedge fund investments. He was one of the youngest Managing Directors at BlackRock where he oversaw the New York Research Team.
Khe is passionate about helping others scale themselves and achieve peak productivity. He's built RadReads into a 6-figure coaching, consulting, and media company thanks to "no-code" tools like Notion - and is passionate about helping others leverage themselves.
This course is closed for enrollment.